AMAZON BESTSELLING CRIME WRITER and deadly blogger at

To read my articles on The Huffington Post  Click Here
 *   *   *
February 12, 2017

– I don't know where the time's gone since my last entry on this page. I temporarily set aside novel writing and took up producing freelance blog and website content to help my daughter, Emily, with her business. Conservatively, I've written around 200 articles (shortform and longform) for somewhere around 300K words in the past six months. I haven't been blogging regularly due to time restrictions and also that I'm involved with helping on two film productions. We'll see where that goes. My goal for 2017 is to finish

From The Shadows

and produce

The Battered Woman

– it's based on a true crime story and I'm collaborating on a screenplay with it.
July 25, 2016

– It's been a busy spring and summer with the release of three new books. No Life Until Death is the second in the Sharlene Bate crime thriller series. In The Attic and Under The Ground are the first in a new psychological crime thriller series based on true murder stories. I'm now starting on From The Shadows.
May 16, 2016

– I've been invited to present Forensics For Writers at the Surrey International Writers Conference on October 20, 2016.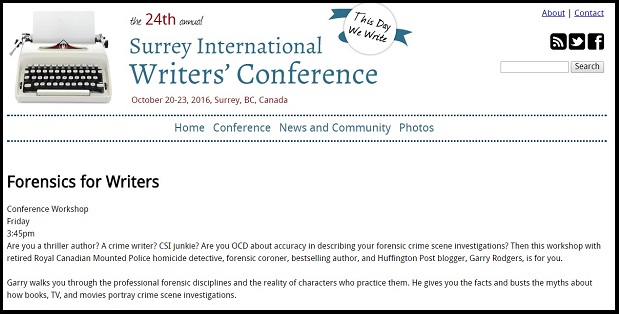 April 06, 2016

– How To Self-Edit Deadly Crime Thrillers is released on Amazon. Click Here to get it.
March 22, 2016

– Dave Schrader of Darkness Radio, Minneapolis, had me as a 2 hour guest on his show discussing killers in general as well as the spooky facts of the Teslin Lake Incident which spawned No Witnesses To Nothing. Click Here for hour 1. Click Here for hour 2.
December 08, 2015

– SilverHart had me back on their show. This time talking about writing craft and what it takes to get blogging on the Huff.  Click Here
November 24, 2015

– I was a guest on SilverHart's "Nooner" program with  retired Chief of Police, Scott Silverii, and New York Times BestSelling Author, Liliana Hart.  Click Here
November 09, 2015 – I've been invited to join the Huffington Post Signature Blog Team.  Click Here
September 13, 2015

– There's a been a renovation at DyingWords – really cleaned up with a new Home Page.  Click Here
Summer, 2015

– Been busy finalizing No Life Until Death. It's in for final editing. Also been had at it researching and writing the No BS Series on Writing Deadly Crime Fiction. The first guide on Crime Thrillers is avaible for FREE.  Click Here
February 15, 2015 – I'm interviewed on Coroner Talk about determining time of death. Check out the hour long podcast  http://coronertalk.com/28
January 17, 2015 

– 

Here's a bit of news for DyingWords followers that I'm kinda proud to share. I've been invited to speak at the 4th International Conference on Forensic Research & Technology being held on September 28-30, 2015, in Atlanta, Georgia, USA. I'll be doing a workshop on The Forensic Facts in the JFK Assassination.
January 01, 2015

– I haven't updated the news page in over a year as there's not much traffic to this page. It's the Dying Words blog that's really taken off and I'm now sending out a monthly news letter. In the past 6 months I've changed the blog focus to doing a guest post every Wednesday and an original one by me every Saturday. There's some very interesting, prominent names that have guest posted, and I promise that this will continue. You can expect one really big fish in the next while 🙂
Two main writing projects are being completed
for 2015

– one is  

No Life Without Death

, 

the sequel to No Witnesses To Nothing. A 3 book series is in the hands of an agent – we'll see where that goes in traditional publishing. The other project is that 

Lone Nuts – A No BS Guide to the JFK Assassination

is over at Wylie Publishing for a possible JFK Assassination For Dummies.
I've also done a number of guest posts on other sites and some radio & TV interviews.  If anyone would like to do a guest post on DyingWords, contact me at garry.rodgers@shaw.ca. Keep in mind that the tagline is 'Provoking Thoughts on Life, Death, and Writing'.
August 15, 2014

 – I'm interviewed by Jim Harrison about the 50 year old Bette-Jean Masters cold case and recent forensic advancement on DNA and digital age progression on Kamloops RadioNL 610
August 10, 2014 
– I'm interviewed by Shane Woodford about serial killers on Vancouver radio CKNW's World Today 
Checkout the podcast at http://www.cknw.com/audio-vault/ . Drop down to Aug 10. Drop down to 4pm. Hit listen & push the bar forward to 33:25. Its an hour segment.
July 31, 2013 

– I'm interviewed at Murderlab.com 
July 25, 2013 – FREE PDF Released of Dead Write – A No BS Guide To Deadly Crime Writing. It's got 91 Killer Tips on the Craft!  

Click here:

 http://dyingwords.net/write-deadly-crime-fiction/

June 25, 2013 – Manuscript outlined  for Lone Nuts – A No BS Guide To The JFK Assassination
June 10, 2013

 – Tom Hanks Produced Movie 'Parkland' – the TRUE Story of the JFK Assassination – coming to a theatre near you in November… the 50th anniversary of history's highest profile murder!
… just when Lone Nuts… a No BS Guide to the JFK Assassination will be released on Amazon!
May 22, 2013
– Two Flattering Reviews of No Witnesses To Nothing
"I've gotten way behind in visiting everyone's blogs and I'm blaming all other forms of social media, my work schedule and Garry Rodgers for that.
Who is Garry Rodgers? He's a retired Vancouver RCMP Homicide Detective and forensics coroner who wrote an awesome book "No Witnesses to Nothing", that I spent a fair amount of my spare time devouring this week. It's based on a true crime story, with a supernatural twist and involves the RCMP, Hell's Angels, a drug-trafficking organization, a  criminal conspiracy that goes back 25 years, the mystery behind the deaths of 2 informants, shamanism and the Kushtaka,a soul-stealing supernatural being. It's a great story, full of lots of twists and wtf-moments, but what makes this book really amazing is how much of it is based on things that really happened with actual people, and how much of it makes you question the dichotomy of good and evil, what the soul really is (and there is a really interesting explanation for that in the book) and what happens after death. Also, that a lot of this happened in Vancouver and on Vancouver Island where I live makes it extra interesting for me. The book's editor is one of my boss's clients and she lent me a copy, but I will be buying a copy of my own because there is so much detail and twistiness, I need to read it again. Two thumbs very high up, and I suggest you give it a read."
Holly from Alberta says –
"I just recently finished reading your book and was moved beyond words, emotionally & mentally. From beginning to end I was captivated. I laughed, cried and was scared shitless at times. I was so young when Mike was killed and unfortunately I have very little memories of him. I never really knew what happened up in Teslin Lake just that he was shot by some crazy trapper. After reading about Teslin and what really happened it's mind blowing. The book is so amazing and the connections from chapter to chapter were like "aha" it's all coming together. I gained so much knowledge and respect for everyone involved. Thank you so much, reading the book was such an incredible journey. Looking very forward to the sequel!"
Win 3 $10 Amazon Gift Certificates for reviewing No Witnesses To Nothing.  Download FREE review copy in Kindle, Kobo, or PDF format.
Informative article with Colorado based Medical Expert and Author, Jordyn Redwood, on the "Difference between a Coroner and a Medical Examiner".
http://jordynredwood.blogspot.ca/2013/02/do-do-i-need-coroner-medical-examiner.html
Garry Rodgers submitted No Witnesses To Nothing designed by Derek Murphy CreativeIndie Covers. "Hi Joel, Please consider this cover. It made #5 on the Amazon BestSeller KDPS free promotion in the Horror category and 68 in Thriller. A bit of name dropping – Joanna Penn gave a testimonial for the back jacket. Thanks, Garry Rodgers Vancouver, Canada"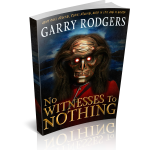 JF: Despite your powerful name-dropping, this is drop-dead terrific. Derek Murphy really hits it out of the park, not least because of this fantastic illustration.
http://www.thecreativepenn.com/2013/02/08/how-to-get-away-with-murder/
Fun article with Top-rated London, England, Blogger and Thriller Author, Joanna Penn, titled "How To Get Away With Murder" setting out the 4 avenues which homicide cops focus on in murder investigations – plus 2 sure-fire ways of committing an undetectable killing.