Thank you for making No Witnesses To Nothing such a monster success!
This is the perfect example of team players believing in a common goal – writing, publishing, and marketing an AMAZON TOP-TEN BESTSELLER.
Today, after 72 hours of promotion by Amazon's KDP Select Program and our team, No Witnesses To Nothing went from obscurity to #5 on Amazon's Kindle Best Selling List in the Horror/Occult genre.
The still-climbing downloads went all over the world; Canada, USA, UK, Denmark, Spain, France, Italy, India, Japan, New Zealand, and Australia. The reviews are coming in and they don't get better than this from Rene Benziam in Morocco:
"I've been waiting for the release of this book for some time and I wasn't disappointed. I downloaded it yesterday and spent most of the night reading. I couldn't 

put it down."

 
I hope this post inspires other writers going through the same lonely, doubting process that I went through. Please believe in your dreams, build your team, and above all…
Never, ever quit!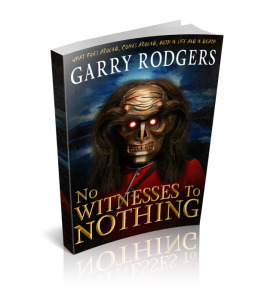 If you missed the Amazon promo, give me a shout and I'll download you a free copy.  You can preview it here at:
No Witnesses To Nothing: Garry Rodgers: Amazon.com: Kindle Store
Another thanks… to you as a reader and hopefully a reviewer.
I'm dying to know know what you think.