Self Publishing is the book-writing gold rush for indie authors. There's money in them thar words and that's no lie. A lot of people are making a lot of money outside the Big-5 print publishers and good for them. But most of the money is made by people selling stuff to gold-stricken writers.
The ones who made good money off the gold rush sold shovels to the miners. That's right. They mined the miners. They also sold food and packs and clothes and toiletries. They sold eggs at a dollar a piece and whiskey at five bucks a shot. They sold a shave & a haircut for two-bits, baths for fifty cents, and women for whatever the gal could command.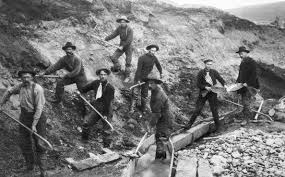 The miners did mine, and some got quite rich, but most got frustrated and gave up.
Indie writing is no different. There has never been a better time to be a writer and I believe that. There is a fortune of information available on line, in print, and in person which you can turn into golden words.
Thing is, you have to pay for most of it.
And a lot of it is good stuff.
In the three plus years that I've taken writing seriously I've spent hundreds, no, thousands of dollars on author services. I've got over fifty books, print and electronic, on the craft of writing and the business of marketing. I've taken webinars and seminars and sat in bars reading about writing. I've paid for editors, formatters, and cover designers. And I've given away gobs of information to others.
It's paid off.
Not in gold – yet. That's to come.

It's paid off because I'm starting to figure this game out and it's been because I've paid for the help from others. I've made tremendous on-line acquaintances. Some actually personal. Some are ether mentors. Some are those who struck it rich.
Here's an example of someone from my home town who hit the motherlode. I met Chevy Stevens (pen name because her real name is hard to pronounce) when she was a realtor showing a house for me. She aspired to be a writer and she sold the farm to succeed. Literally.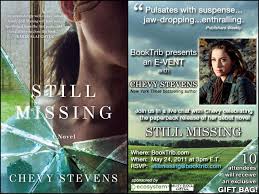 Chevy so believed in herself and her craft that she quit the realty business, sold her own house to survive, and sat down to write. She paid a lot of money to have Renni Browne of The Editorial Department work her first book, Still Missing, into a New York Times BestSeller. Now Chevy's on her fifth BestSeller and internationally known. She's the first to admit that it wouldn't have happened if she didn't pay for good help.
Good help is not hard to find.
I see a lot of online bashing of Author Solutions – a division of Penguin Random House. Now there's an example of mining the miners. These clever bastards saw the indie gold rush not as a threat to print publishing, but a new vein to be tapped. Author Solutions has some great outfits for sale and they'll upsell the shit out of you. Draining your wallet is their aim. But if you take the gold dust out of your eyes, and know what you want, there's value in their pack.
An interesting new outfitter is Booktrope. Rachel Thompson, who I highly respect (Rachel in the OC / Bad Redhead Media), referred me to them and she's now heading one of their imprints called Gravity. This is an interesting concept where you can get published without spending any money. Yep, it's for real.
Booktrope is a cooperative of writers, editors, designers, and marketers working together to produce quality books. All you have to do, as a writer, is to provide quality content. They'll help you to get published and, in their model, no one makes money till they all make money. It's an interesting concept and I hope they succeed.
They say that those who can't do, teach. I'm not so sure about that, but here's some free dirt from someone who's still digging a shaft.
For gold on the craft of writing, read Stephen King's On Writing.
For gold on grammar, read Strunk & White's Elements of Style.
For golden motivation, read Napoleon Hill's Think and Grow Rich.
For the gold on scientific storytelling, read Lisa Cron's Wired For Story.
For a pot of gold on everything writing, go to Joanna Penn's TheCreativePenn.com.
What have you dug up that makes a better writer?
I'm dying to see your mine.