Crime fiction is the second largest-selling book genre, slightly behind romance. It's a craft an author must have passion for, as well as having the writing skills and subject knowledge to make their story believable—and hold their reader's interest. Passion has to pre-exist in the writer but, thankfully, the techniques can be learned. I'm betting that 808 Killer Tips on How to Write Deadly Crime Fiction will help.
The No BS series of crime fiction guides is a project I'm passionately working on. It started as a self-teaching venture when I began fiction writing. I quickly found that, although I might be an adequate technical writer, I knew little about the tricks of the fiction trade.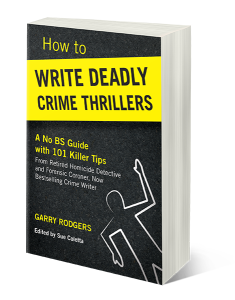 I researched and developed a list of pointers—mostly notes to self—on some of the most important tips. Thinking it would be helpful to others, I published it as a pdf under the title Dead Write with 99 tips and offered it as sign-up bait for my blogsite. It's now matured as Guide One with a more professional look as 101Killer Tips on Writing Deadly Crime Thrillers. It's still available free on this site.
The series goes beyond diction and syntax. It gives writers a unique look into the real side of crime writing based on my actual experience and a hell of a lot of research—never mind help from a gem of a source.
My friend and fellow crime writer, Sue Coletta, generously offered to critique and edit the guides. Sue is an accomplished author on her own with a new crime thriller Marred hitting the shelves on November 11, 2015. Sue recently renovated her website and it's an excellent source of information for crime writers and fans. Visit Sue at www.suecoletta.com and get her own free tips:

60 Ways To Murder Your Fictional Characters

.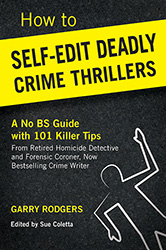 Guide Two is How to Self-Edit Deadly Crime Thrillers. Researching this has taken my writing knowledge to a whole new level and I hope it does the same to others. What's opened my eyes is how the process of editing actually works. The takeaway—it's as vital to learn editing skills as it is to develop writing skills. Editing is revision. Re-Vision.
Writing Deadly Crime Scenes is the third guide. It deals with what really goes on behind the 'Scenes'. People. Places. Processing. It gives you tips on how crime scene investigators recognize evidence and how you can accurately portray the scenes in your books. The guide has sections on legal requirements, responsibilities of investigative roles, and how personalities intertwine on the CSI 'food chain'.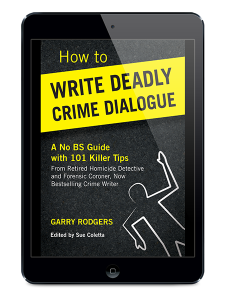 Deadly Dialogue goes beyond the do's and don'ts of fiction dialogue. It gives a look at how cops and crooks think, hence how they talk. There's tips on formatting dialogue so your novel will read like a crime book and not like some soap-opera script. There's also a glossary of crime terms to get it just right.
Guide Five is on Characters. Let's set this straight. Plot is all about characters doing something to forward the story and their own development. It makes you think about development of your characters on three levels. One dimensional that have no names. Two dimensional with an occasional appearance as supporting cast. And the three dimensional stars of the show that your reader needs to love or hate.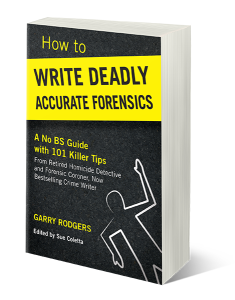 With Guide Six, the series takes a scientific turn and looks at the world of Forensics which no crime story can ignore. You'll get tips on fingerprinting and footwear impressions. A tour through the lab. Recognize bloodstains and semen stains. Microanalysis. Fires. Explosions.Trace evidence and toolmarks. Entomology, serology, and odontology. It covers psychiatric profiling and you'll take a ride on the polygraph. (Tough to compress this into 101 single tips.)
You'll get a bang out of Guide Seven. It's all about Firearms where you'll get tips on ballistics, lands, grooves, and striations. It covers types and terminology as well as ammunition and actions. You'll learn about yield thresholds and fragmentation, the difference between GSW and GSR, and how to snipe off a suspect. You'll never again call a cartridge a bullet, or a primer a casing, and you'll know where to turn to for help.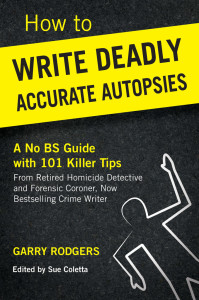 Guide Eight takes on Autopsies and the role of forensic pathology. You'll bag some bodies and slice some Y-incisions; cross-section organs with the tools of the trade and meet with who's who in the morgue. Experience the stages of mortis (changes in death) and understand why things smell the way they do. How to Write Deadly Accurate Autopsies helps you write convincing causes of death and backs it up with scientific support from the lab.
All eight guides will be condensed into one resource titled How to Write Deadly Crime Fiction — A No BS Guide with 808 Killer Tips. The individual guides will be available online as eBooks with an internal link to printing it as a pdf. The big guy, 808, will be in both digital and print-on-demand.
Guides Two through Eight will be out in the fall of 2015, date TBA. In the meantime, help yourself to Guide One: How to Write Deadly Crime Thrillers — A No BS Guide With 101Killer Tips. I'd appreciate your feedback, so please comment with your thoughts and suggestions.

PS – If you're already a subscriber to DyingWords and want the new guide, email me at garry.rodgers@shaw.ca and I'll send you the pdf direct.