Ayahuasca (I-ya-wask-ah) psychedelic tours are a popular rage among worldly young people seeking enlightenment in the jungles of the Amazon rainforest. Why anyone would pay thousands of dollars to blow-up their mind by ingesting a brew containing the most potent hallucinogenic on the planet puzzles me.
This morning I was on Facebook and saw a feed from Michael Sanders, an author who was crowdfunding money to publish his book Ayahuasca – An Exectuive's Enlightenment. I opened his link which opened me into a thriving world of scammers and con-artists who prey on the gullible that'll risk their brain cells to find the next trendy mystic among the world of plastic shamans.
So what is ayahuasca? My friend Wikipedia says this.
Ayahuasca (usually pronounced /ˌaɪjəˈwæskə/ or /ˌaɪjəˈwaːskə/), also commonly called yagé (/jaːˈheɪ/), is a entheogenic brew made out of Banisteriopsis caapi vine, often in combination with various other plants. It can be mixed with the leaves of Chacruna or Chacropanga, which are dimethyltryptamine (DMT) containing plant species. The brew was first described academically in the early 1950s by Harvard ethnobotanist Richard Evans Schultes, who found it employed for divinatory and healing purposes by the native peoples of Amazonian Peru.
Hmmm… Dimethyltryptamine. DMT.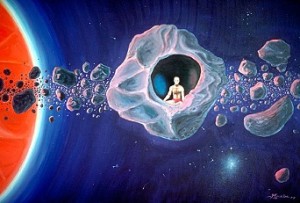 Mirrors on the ceiling,
The pink champagne on ice
And she said "We are all just prisoners here, of our own device"
And in the master's chambers,
They gathered for the feast
They stab it with their steely knives,
But they just can't kill the beast. The last thing you remember, you were running for the door, trying to find the passage back to the place you were before.
Love to be there? Then DMT's your ride. DMT is the most intense psychedelic toxin, as well as the most illegal substance, in the world. Paradoxically it's the most rare drug to acquire and the most common to possess… because every time you go to sleep… a part of your brain produces this chemical and the product you endure is your dreams.
DMT is the drug which causes your pleasant dreams at night.
And your nightmares.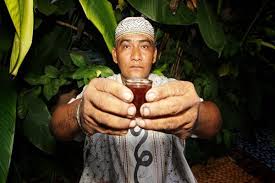 Ayahuasca amplifies the DMT response in your neurotransmitters a million fold and you can have this by paying any one of at least 94 service providers that I found on the internet site AyaAdvisor.com. It's a TripAdvisor for people who really want to trip.
Leading the pack is an outfit called Pulse Tours. For $1995 they'll pick you up at the airport in Iquitos, Peru, (you have to get there yourself) and host you for seven days & nights so you can fuck your mind on the Amazon Ayahuasa Adventure. Give 'em $2995 and you can stay three weeks for a Total Human Transformation. But look what you get.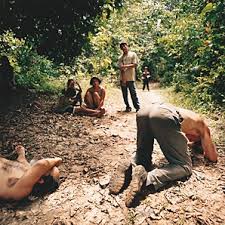 "Our 21 day program includes spiritual/energetic cleansing via our powerful and super concentrated jungle medicines and native Shamans; physical fitness/martial arts/yoga within our 88 sq. meter "Jungle Gym", elite nutrition/super foods proprietary to the Amazon rainforest; topped off with our famous jungle adventures in the Amazon paradise where the Ayahuasca Adventure Center is located. Included are:
12 Ayahuasca Ceremonies with authentic Shipibo Shamans
3 Kambo (Frog Venom) ceremonies with a local Matses Shaman
9 Floral baths
20 nights/21 days accommodation at Ayahuasca Adventure Center in primary Amazon rainforest paradise
Pickup/drop off in Iquitos, Peru (International flights NOT included)
Daily jungle excursions with professional local jungle guides
Unlimited access to 88 sq. meter fitness facility including yoga mats, Onnit kettle bells, battle ropes, steel maces, Moving Zen suspension straps, punching bag, gloves, pads, jump ropes, spinning bike and free weights
Cell phone and wi-fi reception
20 hammocks on site
20 breakfasts, 20 lunches, 8 dinners, plus unlimited fruit, drinking water, and tea
Lifetime 20% discount on return visits to Ayahuasca Adventure Center and membership to exclusive Facebook group
There's a caveat attached to the funding. Read carefully. 
"50% non-refundable deposit due upon booking. The rest of the balance is due in cash form upon arrival to Peru in bills of CRISP quality (unless mentioned otherwise). Your deposit is valid for a life time, should the need to cancel your retreat occur. Alternatively, you could transfer the deposit to someone else, at no additional cost."
Sounds like a pretty intense and interesting deal for three grand. I'd look forward to the frog venom sessions. And the floral baths seem a nice touch, drinking water is considerate, and twenty nights in a hammock saves phosphates from washing the sheets. I did the math and see that I'd be getting 12 ayahuasca sessions over 20 days and 8 dinners which adds up to make sense. 
Yep, great service… for the service provider.
So the entrepreneur in me got thinking and I'd like to offer you a unique trip to an exotic location.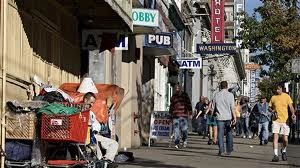 For $995 I'll pick you up at the Vancouver airport and deliver you for six nights and seven days to the Downtown Eastside where you can mingle with junkies and meth-freaks and hookers and hawkers in a feat of survival more violently thrilling than the Hunger Games. You'll get to crank heroin and smoke crack-cocaine. Do mushrooms and MDMA. Weed? No big deal – everyone smokes weed in BC.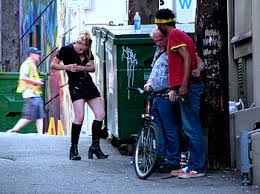 You'll sleep in an alley and shit in the street and lay claim to a dumpster and panhandle and pimp. You can get beaten and burned. Rolled, robbed, and raped. And have a chance for some gunshots or being knifed while you sleep. You can pontiff with head cases and seek relief shelter. Or OD on horse tranquillizer and do NarCan and paddles. And experience Code-3 CPR, a white body-bag, or quietly shoplift your ride into the back of a VPD squad car and be booked into cells.
Blow your mind and your wallet on the the experience of a lifetime – an intoxicating trip into a concrete jungle with authentic shopping-cart shamans in the Downtown Eastside of Vancouver, British Columbia, Canada. A most exotic trip, TripAdvisor says.
So send me your deposit. Now while it lasts.
And make sure you arrive with bills of CRISP quality (unless mentioned otherwise).