The Gunfight at the O.K. Corral is the most famous event of the American Old West. That 1881 showdown between lawmen and outlaws is re-enacted each week, pleasing thousands of people. It's a major tourist attraction in the desert town of Tombstone, Arizona. But something in the show went terribly wrong last week when one of the performers used live rounds instead of blank cartridges, sending another actor to hospital with a nasty gunshot wound and an aghast audience scurrying for cover.
I was surfing the net when a headline popped up: "Actor Shot in Old West Gunfight Re-Enactment".
WTF?
How the hell did that happen?
I clicked the link. Here's the article:
TOMBSTONE, Ariz. 19Oct2015 — An actor staging a historical gunfight in the Old West town of Tombstone was shot with a live round during a show that was supposed to use blanks, leading officials to call for the re-enactments popular with tourists to be put on hold.
The shooting happened Sunday afternoon during Helldorado Days as two performers from the Tombstone Vigilantes group re-enacted a gunfight in the 19th-century mining town made famous by Wyatt Earp, Doc Holliday, and the O.K. Corral. A bystander also was hurt but declined medical treatment.
One of the actor's guns fired live rounds, hitting a fellow member of the group, the Tombstone Marshals Office said. Ken Curtis fell to the ground and was flown to a hospital in Tucson, where he underwent surgery to remove the bullet. Curtis was listed in good condition Monday at Banner-University Medical Center in Tucson, hospital spokeswoman Elyse Palm said. She declined to give further details about his injuries.
At least two bullets struck nearby businesses, hurting a bystander, the Tombstone Marshals Office said Sunday. The woman was not seriously injured, Marshal's dispatcher Dee Jackson said Monday.
Authorities inspected the weapon fired by fellow actor Tom Carter and found one live round and five casings. "That indicated his gun was filled with live rounds prior to the skit," the Marshal said. Tombstone authorities called the shooting unprecedented. The Marshals office says Mayor Dusty Escapule advised the Tombstone Vigilante group to suspend gunfight skits as the investigation plays out.
"Tombstone takes pride in the safety and security of its townspeople and tourists alike, and the citizens of Tombstone can be assured that stringent safety protocol will be enforced prior to allowing any further gunfight skits," the Marshal said in a statement.
Tombstone, about three hours southeast of Phoenix, was once a bustling mining town in the 1800s that now has about 1,500 residents and mostly caters to visitors who come to see gunfight re-enactments and historical sites. The Tombstone Vigilantes were formed in 1946 and are dedicated to preserving and passing along Tombstone's history to tourists who visit the town near the U.S.-Mexico border.
Whoa. Now there's something you don't read every day

. I bookmarked the page.

Hmm… Good stuff for DyingWords followers. They'll wanna know more. Better get on this, but first I gotta find some history about the original gunfight

.
Tombstone got its name appropriately. It really was the epitome of the lawless Wild West where everyone packed a gun—a good time and place to be in the undertaking business, as the Boot Hill cemetery proved.
There was a long-simmering feud between outlaw cowboys—Billy Claiborne, Ike and Billy Clanton, Tom and Frank McLaury, and opposing lawmen—Town Marshal Virgil Earp, Assistant Town Marshal Morgan Earp, and temporary Deputy Marshals Wyatt Earp and Doc Holliday.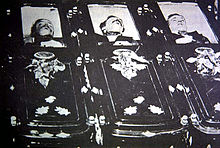 It came to a head at 3:00 p.m. on October 26, 1881, in a Tombstone alley near the O.K. Corral when about thirty shots were fired in thirty seconds. Billy Clanton and both McLaury brothers were killed. Ike Clanton, who'd repeatedly threatened to kill the Earps, claimed he was unarmed and ran from the fight along with Billy Claiborne. Virgil Earp, Morgan Earp, and Doc Holliday were wounded. Wyatt Earp was unharmed.
Ike Clanton later filed murder charges against the Earps and Doc Holliday, but the lawmen were exonerated by a grand jury.
The O.K. Corral gunfight represents a romantic period in the American Old West when the frontier was an open range for outlaws—largely unopposed by lawmen who were spread thin and out-numbered.
No wonder the re-enactment's so popular. I Googled some more.

Who are these Tombstone Vigilantes that are so dedicated in re-creating the gunfights year after year? And how'd they get themselves into this pickle?
I found their website at http://www.tombstonevigilantes.com/. The Vigilantes have been around a long time. They're a well-organized, highly-professional theater group. There are over forty volunteer members dedicated to preserving the fascinating heritage of Tombstone and they do more than entertain tourists with a play gunfight. The group hosts an annual toy drive, an Easter egg hunt, raise funds for the small animal shelter, donate to the food bank, and assist with the seniors meals-on-wheels program.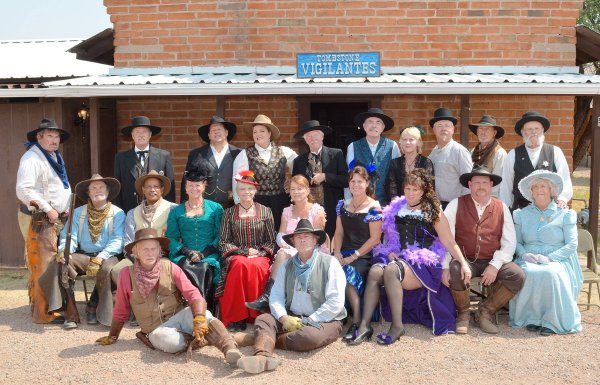 Seem like a right nice buncha folk. Certainly didn't need this mess happening to them

. I picked up the phone.

I'll call and see how they're making out

.
I talked with
Tombstone 

Vigilantes

Chief,

Jeff Miller — Very pleasant man who was deeply concerned about the damage his organization's reputation suffered. Understandably, he declined to comment on the cause of the incident and he told me the investigation is currently waiting for a Marshal's report to the Cochise County District Attorney.

Chief Miller reminded me his group had an impeccable safety record in sixty-nine years of operation, although he conceded this was the first time they'd used live rounds in the show. And the Chief said the wounded man's gunshot strike was in the "lower abdomen area" and was recovering "best as could be expected".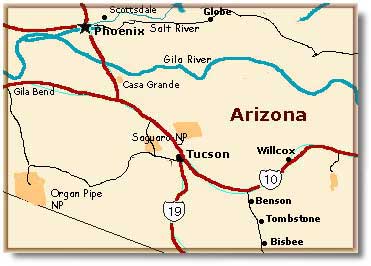 I thanked the Chief for his time and then read some more internet reports. Seems actor Tom Carter was running late for the show. He forgot to unload the live ammunition from one of his six-shooters and failed to replace his revolver's live rounds with blanks before taking the stage. One of Tom's bullets got Ken Curtis in the nuts.
Well. Not so bad… Not like Ken's a young feller with a family ahead of him. Mistakes happen. Like Chief Miller said, "Don't overlook the impeccable safety record, till now. That's what gets lost in all this." He's right. I'm sure the Vigilantes will grow from the incident and the show will go on.
And there's more to the Tombstone Vigilantes show than just the gunfights.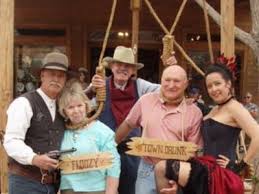 One of the crowd pleasers is a mock hanging where they grab an unsuspecting victim from the crowd and put a lynch-noose around their neck. For ten bucks, the terrified tourist gets released with a framed souvenir photo that they can hang on their wall.
It's all in good fun.
But I hope the Vigilantes are a bit more careful with their ropes than they were with their ammo.