Jillian Bullock guest posts on DyingWords with this insightful look behind the scenes at how CSI personnel operate. Jillian is an amazing personal success story. She rose from a street-life of drugs, organized crime, and prostitution to become a successful Philadelphia screenwriter, filmmaker, author, martial arts instructor, and life coach. Here's Jillian's piece.
The screenplay I'm currently writing—Listen to What the Dead are Saying—focuses on a female Philadelphia Crime Scene Investigator. Since most shows like CSI, Criminal Mind, and Law & Order aren't accurate, I wanted to get the real details of how crime scenes are processed and how Crime Scene Investigators (CSI) work.
After I contacted the Forensic Crime Unit and told them I was a Philadelphia screenwriter and filmmaker, I was invited to the Crime Scene Unit of the Forensic Science Bureau and partnered with Jacqueline Davis, a 20 year police veteran—10 years with the forensic crime unit. Delayne Powe, my film producing partner, joined me in our search for knowledge. We got to know Jacqueline really well since we spent most of our time with her. She was a spunky, go-getter—very passionate about her job and confident in her ability to do her job well.
Four things I learned right off were:
1. The main job of a CSI is to document, identify, and collect evidence from a crime scene.
2. The job can result in long hours, nasty and dirty locations, dead bodies, and often dangerous work.
3. In Philadelphia, CSIs are also police officers.
4. The worst part of the job is when a fellow officer is killed in the line of duty.
Evidence Is Always Left Behind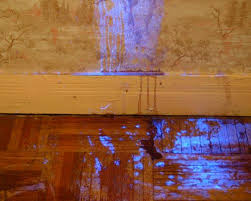 As seen on many TV shows, I asked Jacqueline about Luminol. This solution is sprayed on areas which look clean to the naked eye, but can still have residue of blood. Jacqueline informed me that in Philadelphia and other cities chemiluminescence (the generic name is Luminol) is no longer used. Instead, they now use a new Luminol-based reagent called Bluestar Forensic. The benefits of this new product includes:
Does not need complete darkness to be used.
Solution can be used for several days after mixing.
Even with a second application on applied area the luminescence doesn't diminish.
Easy to mix at any crime scene. Chemistry knowledge isn't needed.
No high tech camera is needed to obtain good quality pictures. Works on fresh blood or old or altered bloodstains.
Even if someone has used bleach or other products to clean the area, the bluish luminescence will appear positive for blood.
Fact vs. Fiction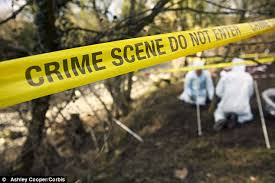 Due to the popularity of CSI shows something called the 'CSI Effect' has hampered the legal system. Many jurors who watch shows like CSI, Criminal Minds, and Rizzoli and Isles, believe everything they see on TV is true. In reality, it's not. Forensic science is far more complex than it looks on TV and several people have not been convicted of crimes because jurors demand all the tests (DNA, handwriting analysis, gunshot residue testing, etc.) even when there is more than enough evidence and eyewitnesses to convict someone.
Here are some key facts to consider:
1. In Philadelphia, crime scene investigators' clothes are dark blue pants, dark blue T-shirts and black boots, along with their police-issued gun, bullets, and handcuffs. They never wear stylish clothes or designer shoes that you see on TV shows. This is true of all crime scene investigators in other states, as well.
2. Chief Medical Examiners usually don't come out to a crime scene unless it's a murder that is extremely bloody or it's a well-known person, e.g. a celebrity, a politician, an athlete. Forensic Investigators who work for the ME's office are on the scene.
3. Medical examiner investigators wear full body protective clothing from head to toe when they come out to a crime scene. This can sometimes include wearing a face mask and goggles to prevent contamination.
4. No one on the scene wears the blue booties covering their 
shoes, 

like is often seen on TV shows, unless there is a great deal of blood or other body fluids at the scene. The booties are often slippery.
5. CSIs don't do work in the field and then process evidence in the lab. That's the job of a forensic lab technician.
Consider a CSI Career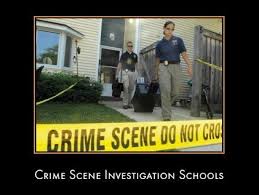 According to the Bureau of Labor Statistics, the average salary for a CSI is between $46,164 – $56,523, but depends on the geographical location, education, experience, and training. All positions in forensics require at least a BA degree—preferably in science, forensics, or criminal justice. Most people go on to obtain a master's degree in order to earn bigger salaries. Some cities require crime scene investigators to be police officers, others do not. Also, many CSI positions are required to earn state licensure and/or professional certification through American Board of Criminalistics.
CSIs must have great communication skills since they work with a number of other people at a crime scene, the ability to write reports clearly, and to testify in court. They must also have the ability to remain calm under dangerous and stressful conditions, to have a great attention to detail, and to solve puzzles utilizing scientific tests and methods.
Dead Bodies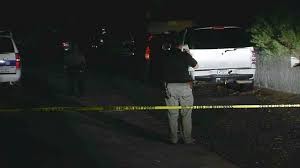 On our first ride along, Delayne and I went out to a murder scene with Jacqueline and Eddie Fidler. Yellow crime tape was spread out around a wide area where the victim, a man, was shot and killed. Bright lights illuminated practically the whole, long driveway. A CSI photographer was taking photos of the crime scene area.
There were neighbors behind the crime tape looking to see what happened. News crews were also behind the tape. Delayne and I had to sign a log book that a uniformed officer was holding. I learned that a uniformed officer held the scene, which meant he had to make sure he had the names of everyone who came and went from that crime scene. Yellow evidence markers were placed on the ground—some had letters and others had numbers. These markers are used to reveal, simplify, organize, and identify evidence found at crime scenes.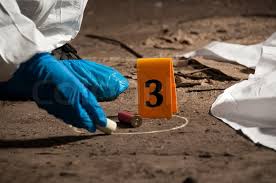 One CSI tech was using something called a walking stick, which measured evidence off of property lines. The investigators looked for evidence, like the gun that was used and shell casings. Detectives were interviewing eye witnesses. The body had already been removed, but a large pool of blood where the victim was shot was still present on the ground.
The second time Delayne and I went on a ride along with Jacqueline and Eddie, we ended up in a section around Kensington Avenue called The Badlands, due to the abundance of open drug deals, drug-related violence, prostitution, and street gangs.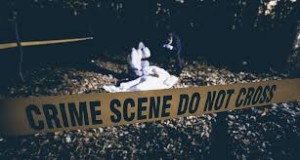 When we arrived, two detectives were already on the scene. Jacqueline and Eddie knew the deceased male was under a bridge where addicts usually went to get high. It was a dark and hard place to reach. They had to walk down a deep slope to get to the body. Delayne hung back with another CSI officer while I attempted to make my way down. Unfortunately, I was not prepared and didn't have on the proper footwear. Halfway down, I could smell not only the stench of a decaying body, but the vomit, feces, and other nasty items I was standing in. After I almost slipped a few times I decided to turn back around.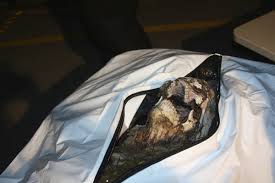 Rob O'Neil, a Forensic Investigator with the Medical Examiner's office put on a white, full-body protective suit and made his way down the embankment to the dead body. When the body was pulled up on a flat board, the other ME investigators wrapped the body in plastic and strapped it down on a gurney before they put the victim in their van. Eddie showed Delayne and me photos of the deceased—a white male's body bloated and covered in maggots.
Riding in the police van back to the station, I couldn't get the dead man, and how he looked, out of my mind. It was a horrible visual. Once Delayne and I got back to the police station and said our good-byes to Jacqueline and Eddie, we got to our car where I took off my sneakers, threw them in the trash, and put on those blue booties until I got home.

As a screenwriter, I must say I gained great knowledge from my two days with the CSI team. I came away with a newfound respect for what police officers deal with on a daily basis and especially what crime scene investigators do.
*   *   *
Jillian Bullock is the CEO/President of Jillian Bullock Enterprises, LLC, an empowerment and entertainment company based in Pennsylvania.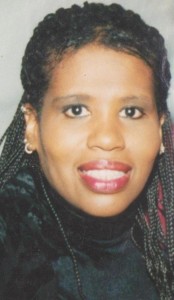 As an author, Jillian's memoir HERE I STAND was published in 2012.  She is hard at work on her first novel, a crime thriller titled Sunny Days, Bloody Nights. Jillian is also a screenwriter and an award-winning filmmaker, along with an empowerment speaker, professional life coach, and fitness and health expert. Currently, Jillian is in pre-production on a feature movie titled A Sense of Purpose: Fighting For Our Lives. Filming is scheduled to begin in September 2016. She is also in development on the screenplay she wrote titled Listen To What The Dead Are Saying. To learn more about Jillian and her upcoming projects, go to www.jillianbullockwriter.com. To follow her on Twitter  Click Here