Imagine information straight from crime scenes biometrically feeding a super-computing, multimodal system of collaborating human identification techniques. A futuristic system beyond IAFIS, the longstanding Integrated Automated Fingerprint Identification System. A new system with hyper-integrated, next generation, biometric database identifiers of laser-scanned tenprints, palmprints, iris and retina recordings, facial recognition, voice printing, tattoo banking, and instantaneous DNA profile matching. An amazing algorithmic system of centralized surveillance. A fantastic system favoring the police.
Imagine the cop on the street with a handheld device imaging your eye, searching your face, or scanning your index finger, then uploading via iPhone to the next generation system that searches, identifies, and reports within seconds. Imagine a system with a repository on persons of special concerns—murderers, rapists, and terrorists—that tracks their chip and their criminal life-cycle from the commission of crime to the correctional center.
Think it's imaginary? Well, it's not. It's here. It's active. And it's expanding. It belongs to the FBI and it's called the Next Generation Identification system. NGI for short.
On its website, the Federal Bureau of Investigation, who administers the program, states:
"The NGI is the cornerstone that enables our Criminal Justice Information System, CJIS, to meet our growing an evolving mission and continue to build our reputation as a global biometrics leader. The NGI Program Office mission is to reduce terrorist and criminal activities by improving and expanding biometric identification and criminal history information services through research, evaluation, and implementation of advanced technology beyond the AIFIS environment."
Wow! An ambitious goal Let's look at how this 1.2 billion dollar baby works.
The NGI is already fully operational in its fingerprinting capacity and is incrementally phasing in other parts of the program in with these biological, biographical, and contextual categories:
Tenprints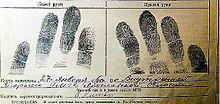 Conventional fingerprinting of arrested individuals involves rolling each of the ten digits from nail edge to nail edge as well as impressing ten flats. The "tenprints" were inked onto paper then scanned into AIFIS. The NGI allows real-time scanning and digital direct uploading. The NGI's use of matching algorithms in its Advanced Fingerprint Identification Technology, AFIT, increased accuracy to 99.6% and its speed to under two minutes.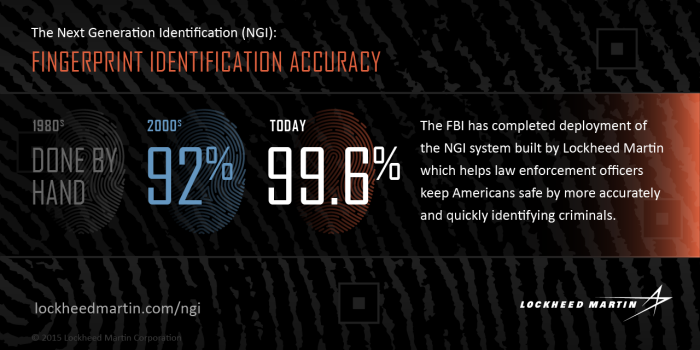 Palmprints
Previous systems did not include palmar impressions yet statistics show that partial palm prints account for over 30% of latents lifted at crime scenes. The NGI's digital scanning, recording, and identifying palm prints are already having a huge impact in criminal identifications.
Latents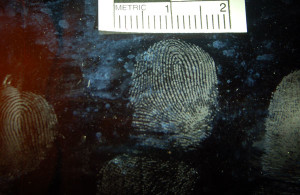 "Latent" prints are technically those impressions that can't be seen with the naked eye and are discovered by the use of amplifying powders, chemicals, and alternate light sources. The NGI lumps these in with "plastic" impressions—those impressed into a mold like wax or grease—and "patents" which are those visible on glass, for instance, and conventionally lifted with adhesive and fixed on slides. All questioned prints are now termed "latent".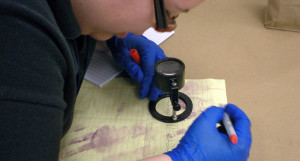 The NGI's advanced matching algorithm technology has three times AIFIS's capacity in identifying minute details and making identifications. Further, it has ten times the capacity to store unsolved latent prints and randomly searching newly inputted prints to clear cold cases.
Currently, the NGI's Latent Branch is subdivided into the Criminal Master File, the Unsolved Latent File, and the Civil Repository.
Facial Recognition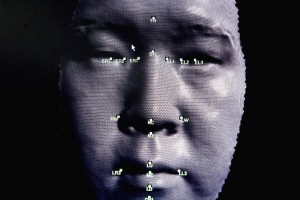 The NGI system incorporates the Interstate Photo System (IPS) which catalogs millions of criminal mugshots as well as other identification photos like driver licenses and passports. The NGI is accessible through Universal Face Workstations where criminal photos are entered through desktop software and the results are immediately scanned and returned as "ranked candidate leads as investigational tools". The system is expanding its capability to search facial recognition from public videos like cell phone and surveillance camera material.
Iris and Retina Identification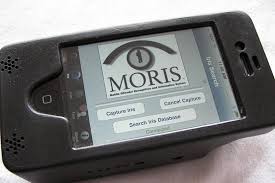 This technology was developed by the military and is incorporated in the NGI system as part of its integrated approach to criminal identification. Current prisoner processing will include iris/retina images recorded and entered into the NGI database. Additionally, patrolling police officers will be equipped with portable scanners to assist in identifying persons in public who cannot produce conventional identification. This mobile technology already exists as MORIS, the Mobile Offender Recognition and Information System, and is a mainstay with the NYPD.
Scars, Marks & Tattoos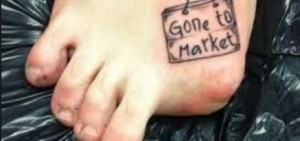 The SMT Branch is another evolving arm of the NGI where criminal processing allows for images of tattoos, scars, and other markings on suspects to be collected and entered into the overall criminal profile. Technology allows for a search capacity in querying descriptive data in order to find stored images of potential matches.
DNA Database
Currently, all convicted felons of serious persons crimes are court ordered to provide their DNA profiles to authorities. The NGI will be the central repository of criminal DNA profiling with a tremendous search and match capability. This increment of the NGI is being phased-in.
Voice Printing
Recording and  recognizing human voice patterns is an emerging technology and a future project for the NGI program as it rolls out its ambitious program. This will be especially useful in identifying unknown speakers caught in electronic surveillance through bugs and wiretaps in terrorist and criminal investigations.
RISC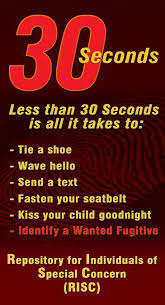 The Repository for Individuals of Special Concern area of the NGI allows a total packaged profile to be constructed for high-risk offenders, suspected terrorists, and other individuals of special concern. The RISC system is available 24/7/365 and has a response time of less than five seconds. Currently, the NGI's RISC branch has over 5,000 requests per day from everywhere like street checks to airport security. Its average hit rate is 4.6%.
Think about this.
30 seconds. Tie a shoe. Wave hello. Send a text. Fasten your seatbelt. Kiss your child goodnight.
Now it only takes 30 seconds to identify a wanted fugitive through the Repository of Individuals of Special Concern.
Rap Back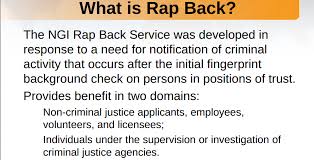 The National Rap Back Service is the screening program for monitoring non-criminal issues like job applications for jobs of critical trust such as daycare workers, scout leaders, bank tellers, children's sports coaches, teachers, and possibly even gynecologists. It also includes people who are under criminal justice supervision like parolees and probationers. Turnaround time for Rap Back reports are typically fifteen minutes and it processes thousands per day.
Tech Refresh
Upgrading and replacing existing software and hardware will be never ending in the struggle to implement the NGI at Federal, State, and Local investigation and enforcement agencies. It's vital to the system's success that end users are up to date and avoid quick obsolescence.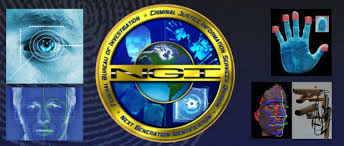 Beyond being a multimodal biometric identification database program, the NGI will also align with the Personal Identity Verification (PIV) cards that are being developed by NIST, the National Institute of Standards and Technology. These are credit-card sized pieces designed to be carried on your person and contain a chip encoded with your entire biometric profile—tenprints, palm prints, iris/retina image, SMTs, DNA profile, and your voice pattern. While elective for everyday citizens to apply to the program, soon PIV's will be mandatory equipment for mobile felons.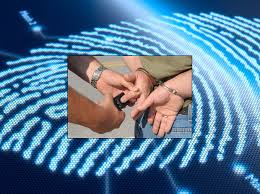 So, the imaginary, fantastic world of biometric identification and super-computed, centralized civilian surveillance is here. In 2016.
Makes me wonder what's coming in the future. I suspect a biometric chip surgically implanted into high-risk offenders that permanently identifies and GPS tracks their existence. We'll know where they are. Who they're with. And what they've done.
And, hopefully, stop what they're about to do.