AMAZON BESTSELLING CRIME WRITER and deadly blogger at

To read my articles on The Huffington Post  Click Here
*   *   *
These are actual toe tags from the morgue. Yep! The real deal. I use them as my business cards, but they also make a great bookmark or really weird conversation piece.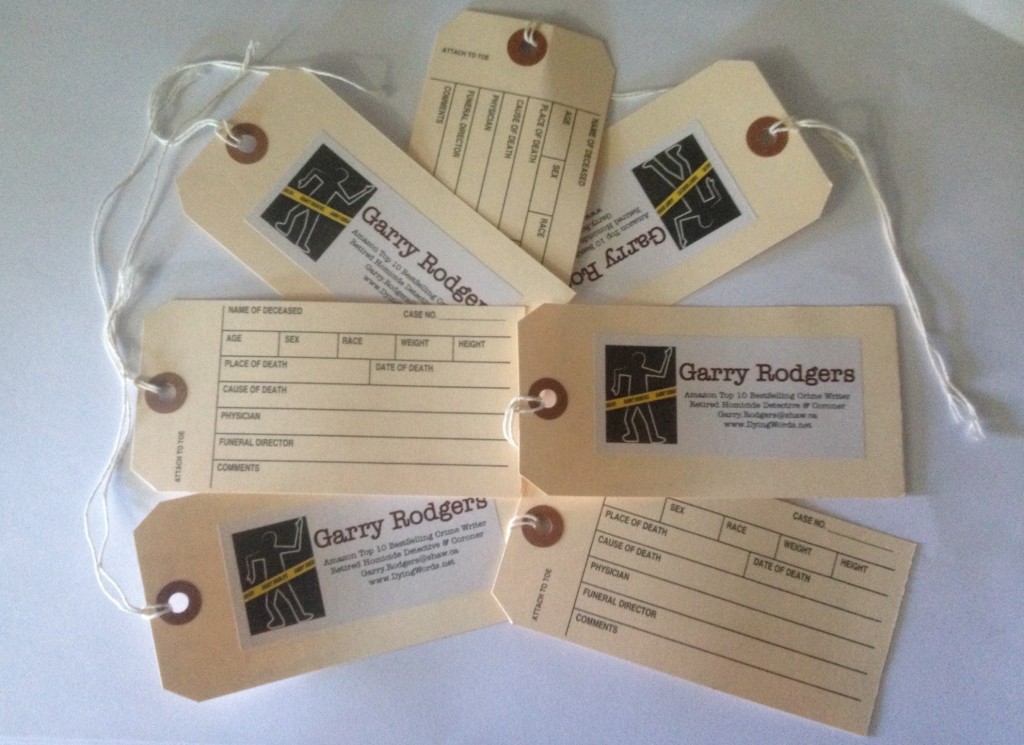 If you'd like a toe tag, please email me at garry.rodgers@shaw.ca , hand over your snail mail address, and I'll send you one (or two, if you're nice to me). I promise that I'll never give out your mailing address – just like I'd never give out your email contact. The only thing I ask in return is that you subscribe to my blog and tell your friends about this.
If you'd like it personalized, give me some information so I know how to kill you off. You might also want one as a gift to someone you'd like to see gone. 
Whatever your motivation, I can guarantee that you've never been attached to one of these before.
Some folks have got toetally creative with them. One even got framed and hung on the wall in a memorabilia display. I got a kick out of that. So, if you'd like a tag, send me your postal address and I'll get it off.
There's a string attached, though. You have to subscribe to my blog, then tell everyone you can about this. Again, I promise never to give out your email or snail mail address. Like, if you can't trust and old cop & coroner, who can you trust?